ISSS In Person and Remote Services
Need Help?
Drop-In Questions w/ No Appointment Needed
Monday - Friday 1:30-3:30 p.m.
Want to meet with an ISSS advisor? Learn about our advising services.
ISSS Portals
*Visiting scholars: Do NOT login with your NetID. Your username is your email address.
International Students and Scholars at UConn
Muireann Nic Corcráin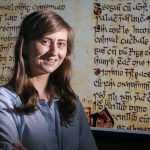 While Connecticut might be separated from Ireland by 3,000 miles, an increasing number of Huskies can answer "yes" to the question, An bhfuil Gaeilge agat? ("Do you speak Irish?"), thanks to a visiting scholar from the Emerald Isle. Muireann Nic Corcráin is spending the academic year at UConn as a Fulbright Scholar teaching the Irish language. Along the way, she also wants to help promote Irish culture to the University community.