It can be challenging for international students and scholars to learn cultural nuances and to manage different processes in your new country.  These monthly workshops provide information to students and scholars about how to "get things done" in the United States.
July 10, 3 pm – 4 pm: ISSS Summer Book Club
Join ISSS Advisor Sarah Manning for the first ISSS Summer Book Club. Have you ever gotten lost in a book? Now is the best time to do it! Join ISSS for a community book club. We will be reading We Were Liars by E. Lockhart. This is a summer mystery book that will be fun to discuss and share. Sign Up here to participate. 
November 1, 12 pm – 1 pm: Ghosts, Goblins and Idioms: Learn Halloween Expressions with ISSS! 
Join ISSS Advisor Sarah Manning for a fun and spooky English lesson focused on Halloween themed sayings! Free pizza and refreshments for participants.
September 27, 1:15 pm – 2:15 pm: International Students and Mental Health: Lunch and Discussion. RSVP here. 
April 9, 12pm: A Healthy You (and Healthy Planet) Through Healthy Eating.  Register here.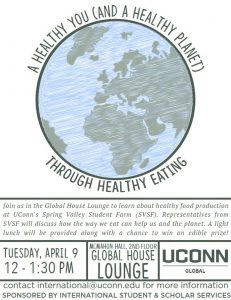 February 15, 12pm:  Love is in the Air Valentines Day Workshop.  Register here.
February 13, 4:30 pm: CPT, OPT, and H1B Success Stories Panel 
February 4, 5:30 pm: Tax Information Workshop (Presented with School of Business, Tax & Compliance and UConn Payroll)
November 14, 12 pm: Idioms Workshop.
October 10, 5 pm: Navigating Healthcare in the U.S.
September 13, 12 pm: Living Off Campus – Your Rights and Responsibilities as Renters.