It can be challenging for international students and scholars to learn cultural nuances and to manage different processes in your new country. ISSS offers various workshops and events to help international students and visiting scholars learn more about life in the U.S.
International Student Forum: my research, my journey, my UConn
Tuesday and Wednesday April 5 and 6, 2021 6:00-7:30 p.m. and Thursday, April 8, 2021 10:00-11:00 a.m.
ISSS joins UConn in celebrating Graduate Student Appreciation Week by hosting the International Student Forum. Join ISSS in celebrating our international graduate students by attending the International Student Forum. Nine master's and doctoral students from different countries and degree programs will present on their research, their home countries and backgrounds and/or what their time at UConn has taught them.
Tuesday 4/6/2021 6:00-7:30 p.m.

Wednesday 4/7/2021 6:00-7:30 p.m.
Thursday 4/8/2021 10:00-11:00 a.m.
ISSS Stay Informed Meeting
A monthly meeting providing important immigration updates and policy updates for all international scholars and students of UConn.
October 1st, 2021 Meeting
International Insiders, UConn Toastmasters, Staying Healthy and Getting Help from Student Health and Wellness, Travel Reminders, Upcoming Events
May 7th, 2021 Meeting
ISSS Updates, Summer Announcements, Grad Buddy Program, Travel Updates
April 9th, 2021 Meeting
ISSS Immigration updates, ISSS programming for Spring 2021, & learn about the ISSS Grad Buddy Program.
March 5, 2021 Meeting
ISSS immigration updates, Center for Career Development, Off Campus Student Services, ISSS program "Hungry Huskies: Cook with Ruth"

February 5, 2021 Meeting
ISSS and immigration updates , Academic Achievement Center, Student Health and Wellness (Wellness Points Challenge), Student Health and Wellness – Mental Health (International Student Support Group and SHAW-Mental Health events), and Cross-Cultural Connections Student Organization.
Hungry Huskies Cook With Ruth
Join ISSS staff and long time ISSS volunteer and friend Ruth Hartunian-Alumbaugh for an intro to cooking! Ruth is a music therapist, international student friend and part of ICF on campus, food writer for the local newspaper (Raving and Cravings on Facebook), music teacher, educator, world traveler and food enthusiast. Every other Wednesday, Ruth will teach a class about food of all kinds, cultures, and flavors – see schedule below. Ruth will provide the recipes and demo the cooking tools and techniques via WebEx. Please send questions/comments and recipe requests to ruthhalumbaugh@gmail.com.
Meeting link: https://uconnvtc.webex.com/uconnvtc/j.php?MTID=ma055d6ac4cbf7d93a194a9efc5c10cac
Meeting number: 120 620 0539
Password: hungry
April 7, 2021

March 24,2021

March 10, 2021 Class

December 18, 2 pm: Annual Cookie Decorating Event
Join ISSS for our annual Cookie Decorating event Friday, December 18 at 2pm. Follow along and learn how to decorate a cookie, you can join us live through WebEx (link: https://uconnvtc.webex.com/uconnvtc/j.php?MTID=mfd8402b361edeae3a12c650d92fd855b Password: Cookies20)
If you are outside of CT or away from campus you can still join us! Email leslie.lawrence@uconn.edu or amina.kader@uconn.edu for a list of supplies that you can pick up at the grocery store or that you can order online.
November 1, 12 pm – 1 pm: Ghosts, Goblins and Idioms: Learn Halloween Expressions with ISSS!
Join ISSS Advisor Sarah Manning for a fun and spooky English lesson focused on Halloween themed sayings! Free pizza and refreshments for participants.
September 27, 1:15 pm – 2:15 pm: International Students and Mental Health: Lunch and Discussion.
RSVP here.Â
April 9, 12pm:Â A Healthy You (and Healthy Planet) Through Healthy Eating.Â
Register here.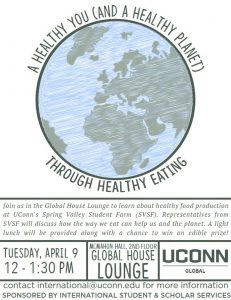 February 15, 12pm:Love is in the Air Valentines Day Workshop.
Register here.
February 13, 4:30 pm: CPT, OPT, and H1B Success StoriesPanel
February 4, 5:30 pm: Tax Information Workshop (Presented with School of Business, Tax & Compliance and UConn Payroll)
November 14, 12 pm: Idioms Workshop.
October 10, 5 pm: Navigating Healthcare in the U.S.
September 13, 12 pm: Living Off Campus – Your Rights and Responsibilities as Renters.